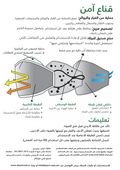 Non Medical Face Mask
ANTI DUST & ANTI ODOR: Be protected from dust, odors, small particles, pollen, coughing, sneezing and more.

ERGONOMIC DESIGN: Will maintain its shape after each wear, soft fabric ensures comfort. Has Adjustable Ear loops to suit all face shapes and sizes

ECO FRIENDLY: Reusable and better than 'use & throw' disposable masks. Can be Washed multiple times and reused

Anti-blur design to prevent fogging of glasses.

Maximum anti-bacterial protection.3 Layer fabric face mask. UV and water-resistant Polyster outer layer, dust filter middle layer, breathable and sweat-absorbent soft cotton inner layer
Note: These masks are not recommended for medical use in high-risk or professional environments. Their effectiveness depends on the correct usage.  User must follow hygiene rules, social distancing, and sanitise as required. 
ISO 9001:2015 Quality - EU & USA Standard
Made in Vietnam
SafeMask Black with adjustable ear loop - Polyester and cotton fabric