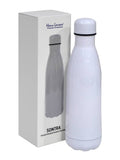 Sontra by Hans Larsen® is a double walled stainless steel water bottle with high quality SS304 inside and SS201 outside.
A classic bottle with a unique 100% premium gloss finish for a unique look and feel.
The bottle keeps chilled beverages cold for up to 12 hours and hot drinks warm for up to 6 hours.
This bottle will keep you hydrated on the go wherever you are.
Capacity 500ml, leakproof, SS 304 inside SS 201 outside.
Packed in a gift box.
DWHL 346/7 SONTRA - Hans Larsen Double Wall Stainless Water Bottle