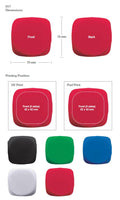 Our Cube Stress Ball can release your pain without any frustration just by squeezing it.
This Pain relief ball has a size of 5.3cm that easily fits in your palm and comes in five different colors including pure white and pitch black.
If you are looking for a product that can deliver more than one message while being in the palm of your clients hand on a daily basis, look no further.  with 6 panels for customization and one of the most popular and regularly used promotional item.  This stress ball is sure to deliver your marketing message aptly.

MGT-21-017 Cube Stress Ball